Wynn Resorts Taps Hospitality Veteran Thomas Schoen As President Of New UAE Casino-Resort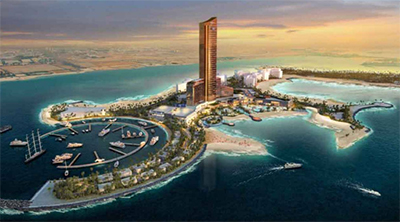 In preparation for the launch of Wynn Al Marjan Island, a multibillion-dollar integrated resort in Ras Al Khaimah, United Arab Emirates, in early 2027, Wynn Resorts has appointed Thomas Schoen as president. The resort will be the company's first foray into the Middle East and North Africa area, and Schoen will be responsible for its day-to-day operations. MENA companies Marjan LLC and RAK Hospitality Holding LLC are collaborating on the development of the project.
What is Wynn Al Marjan?
Wynn Al Marjan Island, which will soar over 300 meters above sea level and welcome tourists to a premier-class experience, is destined to become a new iconic monument in the UAE. It will have a cutting-edge event center, gaming area, theater, and casino establishment unlike any other in the area, in addition to a contemporary, world-class hotel with 1,500 rooms, villas, and suites.
The integrated resort is the biggest FDI project of its type in Ras Al Khaimah, and it will set new benchmarks for style and luxury accommodations on a worldwide scale. The new resort on Al Marjan Island is a prime example of the Emirate's rising worldwide status as a premier location in which to develop world-class hotels. The first casino in the UAE will undoubtedly have a significant impact on the region.
Who is Thomas Schoen?
Schoen, a seasoned professional with over three decades of luxury hospitality expertise that extends across Europe, the UK, and Africa, will leverage his vast knowledge of opening and managing highly esteemed integrated resorts to deliver a remarkable brand experience for Al Marjan Island.
Wynn Resorts CEO, Craig Billings, called Al Marjan Island an outstanding venture for Wynn Resorts. Billings further stated that the whole Wynn team is thrilled to have Schoen as the manager of their operations team at the new business and that Schoen, in his new position, will be ensuring the high-quality guest service for which Wynn is renowned. Billings is confident that Wynn Al Marjan Island will succeed in part thanks to Schoen's enthusiasm for hospitality and wealth of knowledge.
As for his new position, Schoen said he is excited to take charge of Wynn Al Marjan Island and is honored to be a part of such an important transition for the company. He believes the soon-to-be-famous location will not only usher in a new era of unparalleled hospitality for visitors to the Emirates but will also help cement the brand's reputation across the world. Schoen has also expressed his eagerness to get started on this adventure.
Esteemed names such as Sheraton and W Hotels are just a few of the major companies Schoen worked with throughout his time at Starwood and Marriott before joining Wynn Resorts. He was most recently the Complex General Manager at Pine Cliffs Resort, Luxury Collection, where he oversaw a massive rebuilding project to finish the resort's master plan as well as the pre-opening and launch, all while trying to make the resort Europe's best.
The Al Marjan Will Be the First of Its Kind in the UAE
Wynn Resorts CEO Craig Billings has said that the casino of the upcoming Wynn Marjan integrated resort would dwarf that of the company's marquee U.S. property, Wynn Las Vegas. This clarifies that the resort will indeed be the first in the UAE to provide casino services to its guests. According to certain sources, Wynn Resorts has trademarked titles including The Arabian Strip and The Marjan Strip. According to Arabian Business, the Las Vegas hotel company registered these copyrights in 2021 and applied them effectively.
Due to the stringent application of Islamic law in the UAE, the 2022 announcement caused a stir and piqued the interest of several investors and many of those who like gaming. These laws have a negative outlook on gambling and any connected activities, and the GCC has been hesitant to provide exceptions. This raised the question of whether Wynn Marjan would genuinely provide gambling.
However, the announcement was a breath of fresh air for local gamblers since it may be their first opportunity to participate in casino activities at a secure location that complies with UAE law. Residents of the nation have so far had the choice of gambling overseas or just online with the help of trustworthy websites like www.arabicbet.org, which provide them with advice on the finest online casinos to visit.
Bigger Plans Are in The Future
Wynn Las Vegas, Encore Boston Harbor, Wynn Macau, and Wynn Palace in Cotai are all properties that Wynn Resorts created, owns, and runs. The developer and the region's government have high hopes that this venture will pave the way for further prospective casino projects in the area, as seen by their desire to build the Al Marjan casino bigger than their flagship Las Vegas location.
We accept Guest Posts