Interesting Places To Have Lunch That Never Crossed Your Mind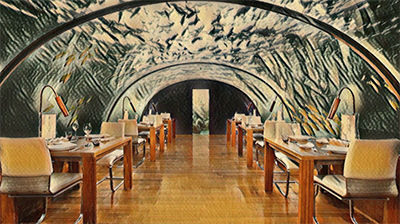 Having lunch does more than merely meet your body's nutritional needs. In this day and age, it has evolved into a ritual that can take many different shapes. There are many great restaurants in Saudi Arabia and around the world that are changing our expectations of what lunch is all about. Our lunch options can be as familiar as a neighborhood café or as daring as an underwater restaurant. In this article, we've compiled a list of some of the most unlikely locations where you can go for more than simply a meal. When it comes to lunch, these places offer an experience like no other. So let's get started.
Libraries and Bookshops: Where Culture Meets Cuisine
You could be tempted to believe that these are the types of shops you go to in order to get a new book, magazine, or writing supplies. However, particularly in Europe, antique bookshops and libraries also feature quaint cafes and bistros where customers can enjoy a leisurely lunch in a distinctive setting. Lunch in a library or bookshop, sometimes surrounded by literary treasures, is a highlight for bibliophiles and anyone looking for a change from the neighborhood pizzeria. El Pendulo should not be missed if this seems like your ideal place to grab a bite and you happen to be in Mexico City. This unusual setting of a cafe, bookstore, and art gallery surrounded by vegetation and soft jazz music is ideal.
Casino Resorts: Culinary Jackpots Await
Casinos are not just about gambling, they are also hubs of shopping, fine dining, and so much more. And when you're craving a culinary delight amidst your blackjack or roulette game, only the crème de la crème of casino restaurants will do. Las Vegas stands out as a hotspot for the best and most luxurious casino restaurants in the world. Take The Bellagio, for instance. Beyond its breathtaking fountains, it houses restaurants like Picasso, a perfect fusion of gourmet dining and artistry. But if you think the culinary adventure ends in Vegas, think again. Marina Bay Sands in Singapore beckons with its star-studded chef line-up, serving up unforgettable meals, be it a casual lunch, morning breakfast, or a lavish dinner.
Greenhouses and Botanical Gardens: Nature's Dining Rooms
As the mercury climbs, what better place to enjoy lunch than amidst lush greenery, vibrant flowers, and flourishing vegetation? Fortunately, countless botanical gardens and greenhouses globally provide dining options, allowing visitors to savor meals amidst nature's splendor. For starters, consider Seattle's Cafe Flora, renowned for its picturesque conservatory and impressive central fountain. But if you're yearning for a more unique setting, The Orchid Bistro in Lagos, Nigeria, is sure to captivate you.
Underwater Restaurants: Dive into a Culinary Odyssey
Eating lunch underwater is one of the things that add a new dimension to the entire culinary experience. It simply merges gastronomy with adventure and unbelievable aquatic sceneries.
It may not be an activity for the faint-hearted, but you'll be stunned if you pick a place like Ithaa in the Maldives. The architectural marvel situated 5 meters below sea level offers patrons a mind-blowing 180-degree panoramic view of the lush marine life. You can also give Subsix a shot, also in the Maldives. It's easy to understand why most of the action takes place here. Unlike any other similar restaurant, this one is only accessible by boat, making it Uber-exclusive.
Lunch Inside Decommissioned Planes: High-Flying Dining
The idea might seem unconventional, but there's an unexpected charm in dining on decommissioned airplanes. Several such restaurants exist worldwide, with Runway 34 in Switzerland being one of the most notable. Set within a Soviet Ilyushin IL-14 aircraft, it promises a dining experience like no other, where the plane's interiors merge beautifully with the restaurant setting. For those not keen on a Swiss adventure but intrigued by the concept, The Airplane Restaurant in Colorado Springs is also an exciting venue. This place centers around an extremely well-preserved Boeing KC-97 tanker, blending aviation ambiance with classic American dining.
Final Thoughts
The world's culinary scene now includes where and how we eat as well as what is on our plates. The restaurant industry has been propelled into an immersive world by creative entrepreneurs who have combined atmosphere and cuisine in previously unthinkable ways. So, the next time you wonder where to grab lunch, give yourself the freedom to think outside of the box. The world is after all a large, wonderful dining room, teeming with unlimited possibilities in this age of culinary creativity.
We accept Guest Posts