Commenting ahead of the World Future Energy Summit (WFES) 2011, which will take place in Abu Dhabi from 17-20 January 2011, Anu Agarwal, Director of Ekotribe stated, "WFES promotes innovation and investment opportunities surrounding renewable energy and environment. We aim to capitalize on this unrivalled business platform to showcase our latest environment friendly products and technologies. Our participation in WFES 2011 further demonstrates our commitment in helping UAE and the region in reducing its carbon footprint while providing superior eco-products that enable eco-friendly lifestyles".

Ekotribe will be exhibiting a wide range of energy and water saving devices, including green gadgets and solar appliances. Other products on display include reusable shopping bags, recycled paper and stationery, BPA-free water bottles and lunch boxes, solar powered backpacks and eco-office products with corporate branding.
Ekotribe stand # 4400 is located in Hall 4 of the Abu Dhabi National Exhibition Centre.
About Ekotribe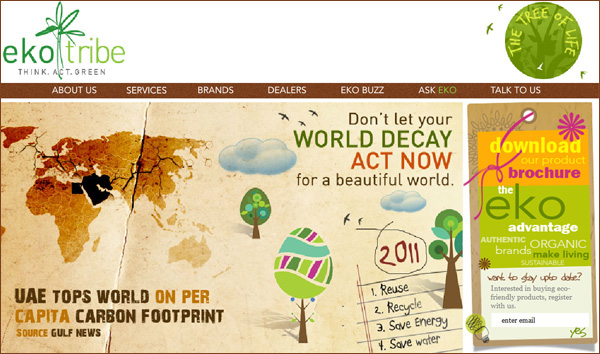 Ekotribe was started with a desire to introduce green living. Ekotribe supports environmentally friendly manufacturers & designers. All customers are guaranteed products which are 'green', easily absorbed into the ecosystem, without compromising on design or quality.
Ekotribe strives to offer high quality products that are - Biodegradable, Environmentally safe, Handmade, Natural, Recycled, Recyclable, Reusable, Sustainable or Organic. Ekotribe is promoting a lifestyle that includes being aware of the environment, yet enjoying high-end products without forgoing quality & design.
Ekotribe products are now available at the following outlets:
• The Green Ecostore in Mercato
• Milk & Honey in Palm Island
• Favorite Things in Dubai Marina Mall
• Dubai Aquarium in Dubai Mall
• Fairmont Hotel Shop on Sheikh Zayed Road
• Ekotribe showroom in Khalid Al Attar Tower, 101, Sheikh Zayed Road
• The Green Ecostore - Online store [www.thegreenecostore.com]
About WFES
Since its inception in 2008, World Future Energy Summit 'WFES' has evolved as the world's foremost and must-attend annual meeting for the renewable energy and environment industry. In 2010 WFES uniquely brought together over 24,760 attendees from 148 countries including world leaders, international policy makers, industry leaders, investors, experts, academia, intellectuals and journalists to find practical and sustainable solutions for today's energy security and climate change challenges.

WFES includes a world class summit, two exhibitions, young future energy leaders program, round table discussions, industry and investment seminars, corporate meetings and social events.

For more information, contact:

Anu Agarwal
Ekotribe FZ LLC
An Enpark Company
P. O. Box 53735
Dubai
Tel: 04- 3327693, Fax: 04-3318812
Email: media@ekotribe.com
Website: http://www.ekotribe.com
On Twitter at:
Website: http://twitter.com/ekotribe