Ekotribe has launched eco-friendly water bottles that are a healthy and sustainable alternative to plastic and aluminum bottles. According to Anu Agarwal, Director of Ekotribe, "Approximately 1.5 million barrels of oil, enough to run 100,000 cars for a year are used to make plastic water bottles worldwide. EcoUsable is a market leader in manufacturing eco-friendly water bottles and we are delighted to bring their range of products to the Middle East region. "
Over 60 million plastic water bottles go into landfills every day. Countless more end up in our oceans and waterways. Plastic waste in our oceans now equals nearly twice the size of the continental U.S. Researchers have found fish that have as many as 17 different pieces of plastics in their stomachs, which are known carcinogens and hormone disrupters. Ingesting contaminated fish can cause illness in birds and humans.
EcoUsable bottles are environmentally safe and made of 304 Food Grade Stainless Steel which is non-leaching and BPA-Free. EcoUsable bottles are extremely lightweight, meant for any cold beverage and offered in 3 sizes:
10oz – So kids can have their 'own' bottle to include with their lunch boxes
16oz – Original size bottle with universal appeal
33oz – Great for travel, the gym or those with a big thirst
• Over 50 different bottle colors and designs to choose from
• Bottles feature a simple half-turn loop top for very easy on/off access
• Bottles include a skid proof black mat bottom
• Bottles also come with a carabineer so you can attach it to your purse, buckle or backpack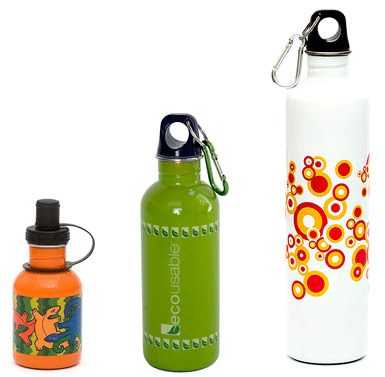 About Ecousable
EcoUsable, a California based company, is spearheading the movement to reduce single use plastics and people all over the world have joined in the mission to eliminate plastic water bottles. Retailers, schools, camps & companies have now adopted these practices and the results are immeasurable!
Ecousable, Inc. invents, produces and markets reusable eco-friendly products that are fashionable and affordable for everyone. New EcoUsable stainless steel water bottles were recently featured on Martha Stewart show as a healthy and eco-friendly alternative to plastic and aluminum bottles.
About Ekotribe
Ekotribe was started in early 2010 with a desire to introduce green living. Ekotribe offers a range of eco-friendly products including green gadgets and appliances, solar lights, reusable gift bags and shopping bags, recycled paper and stationery, eco-friendly shower heads, eco-friendly toys, BPA-free water bottles and lunch boxes, soy candles, organic beauty products, organic table linen, eco-friendly wallpaper and wall stickers, solar powered totes, solar powered backpacks, bamboo kitchen ware, eco-friendly household cleaners, biodegradable tableware and organic pet products.
Ekotribe supports environmentally friendly manufacturers & designers. All customers are guaranteed products which are 'green', easily absorbed into the ecosystem, without compromising on design or quality. Ekotribe strives to offer high quality products that are either - Biodegradable, Environmentally safe, Handmade, Natural, Recycled, Recyclable, Reusable, Sustainable or Organic. Ekotribe is promoting a lifestyle that includes being aware of the environment, yet enjoying high-end products without forgoing quality & design.
Ekotribe products are now available at the following outlets:
• The Green Ecostore in Mercato
• Milk & Honey in Palm Island
• Favorite Things in Dubai Marina Mall
• Dubai Aquarium in Dubai Mall
• Fairmont Hotel Shop on Sheikh Zayed Road
• Ekotribe showroom in Khalid Al Attar Tower, 101, Sheikh Zayed Road
• The Green Ecostore - Online store [www.thegreenecostore.com]
For more information, contact:
Anu Agarwal
Director
Ekotribe FZ LLC
An Enpark Company
P. O. Box 53735, Dubai
Tel: +9714-3327693
Email: media@ekotribe.com
Website: http://www.ekotribe.com
On Twitter at: http://twitter.com/ekotribe